Dr. Irene O'Brien
Veterinarian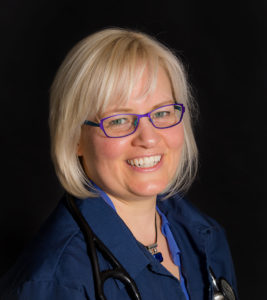 Dr. Irene O'Brien grew up in Salmon Arm. She received her Doctor of Veterinary Medicine degree from the Western College of Veterinary Medicine at the University of Saskatchewan, where she graduated with distinction.
Irene has been a part of the Scottsdale team since graduation and enjoys the challenges of small animal medicine and surgery. In addition to practicing at Scottsdale, Dr. O'Brien is the primary veterinarian for B.C. Guide Dog Services overseeing the breeding program and health protocols. She holds vaccination clinics at the guide dog house for the dogs-in-training as well as vaccinating and health checking the many litters of new puppies every year.
As part of our ongoing commitment to the health and wellbeing of your pet, Dr. O'Brien is a Fear Free Certified Professional. This certification allows us to help you recognize and alleviate fear, anxiety and stress in your pet. Irene's desire to help clients raise happy, well adjusted puppies led her to develop the puppy socialization classes that are held at Scottsdale. These classes have been held on an ongoing basis since 1999 with the help of her husband, Dr. Daniel Schwartz, who is also a veterinarian.
Irene enjoys gardening and spending time with family. She lives in South Surrey with her husband, with whom they have the pleasure of sharing their home with their Pit Bull, Tarnell, and three cats, Gaius, Eragon and Emmet.