Dr. Derek Peters
Veterinarian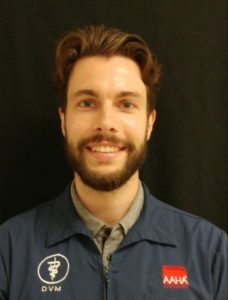 Dr. Derek Peters grew up near Toronto in the town of Oakville, Ontario. He graduated from the Biomedical Science program at the University of Guelph and thereafter continued his studies at the University of Guelph to graduate with distinction from the Ontario Veterinary College.
After graduation, Derek moved out to the west coast to join the Scottsdale Veterinary Hospital team. When he's not at work you're most likely to find him hiking, travelling, or on the soccer pitch!
Derek grew up with rambunctious Border and Cairn terriers at home. While volunteering during veterinary school he adopted his cat, Leila, from the Soi Dog Foundation in Phuket, Thailand. They've been inseparable ever since.