Dr. Andy Nanda
Veterinarian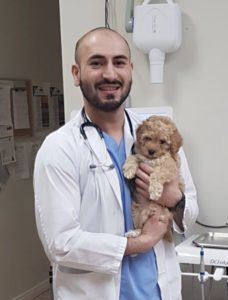 Dr. Andy Nanda was born and raised in North Delta. After attending Kwantlen University for his pre-veterinary courses, Andy went to India where he received his degree in Veterinary Medicine. Growing up with a veterinarian father allowed Andy to observe from an early age the positive impact that attentive care and education can have on both animals and their owners.
Andy returned to Canada after graduation and first worked in Toronto at a mixed animal veterinary practice while he completed the required board examinations to become licensed as a veterinarian in British Columbia. He then moved back to North Delta and worked in North Vancouver as an Associate Veterinarian and at a number of other clinics in the lower mainland as a Locum Veterinarian before joining the Scottsdale team.
In addition to practicing, Andy has volunteered with the BC SPCA, and in his spare time enjoys playing basketball, hiking, travelling, and exploring our beautiful province. Dr. Nanda is passionate about animal care and is excited to be part of your pet's health and wellness.