Welcome to Scottsdale Veterinary Hospital, your local veterinarians in Surrey, BC.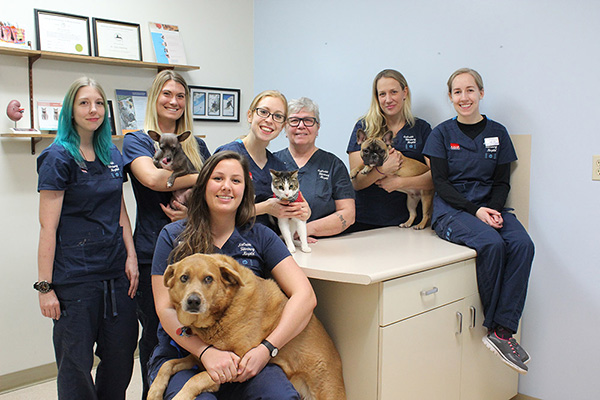 Since 1984, Scottsdale Veterinary Hospital has voluntarily complied with the rigorous standards of the American Animal Hospital Association (AAHA) qualifying as an AAHA member hospital.
AAHA standards pertain to a hospital's equipment, practice methods and management. Membership in the AAHA is available to any veterinary hospital in the United States and Canada that meets the high standards of medical practice and hospital procedures established by AAHA, provided the hospital director subscribes to the principles of the association.
Evidence of compliance with these standards is determined through periodic, on-site thorough evaluations by field representatives of the association.
We are also proud to have been selected by B.C. Guide Dogs and the Delta K-9 Police Force as their primary care givers. Keeping these working canines in the best of health has been both challenging and rewarding.
Registered Veterinary Technologists (RVTs)
We are fortunate to have many certified RVTs working at Scottsdale Veterinary Hospital. In order for them to attain their RVT diploma they must complete 2 full years of training (anesthesia, parasitology, anatomy etc.) at a college with an accredited veterinary technologist program. We are fortunate now to have a local program at the Douglas College-Coquitlam Campus. Our Registered Veterinary Technologists regularly attend advanced seminars in areas such as internal medicine, dental care, nutrition and parasitology. To be an RVT, yearly continued education is a requirement.
Reception Staff (Customer Care Specialists)
We are proud of our reception staff whom take great joy in meeting you and your pets. They offer helpful advice and book your pets in for veterinary visits. All of our customer care assistants have had either formal post secondary training or have more than ten years experience. Our customer care team also participates regularly in continuing education in such areas as nutrition, grief counselling, and communication.